VS Signage - How It Works
How It Works: The VS Signage System is an anodized aluminum frame signage system with a removable clear lexan face that allows end clients to insert, change or update information as they require.
Our VS Signage System is suppose to have the appearance of "permanent" signage but with the removable clear face, as your office signage requirements change so can our VS Signage System by simply updating the inserts in the frames.
Available in both VS (curved) or VSF (flat) profiles, the VS Signage System offers clients a complete interior signage system that is uniform and easy to change/update. From custom/personalized name plate inserts to office door sign to elevator notice holders, our VS Signage System can be a complete solution for your office signage.
VS Signage System is a versatile and cost effective solutions for any interior office or building directional signage requirements.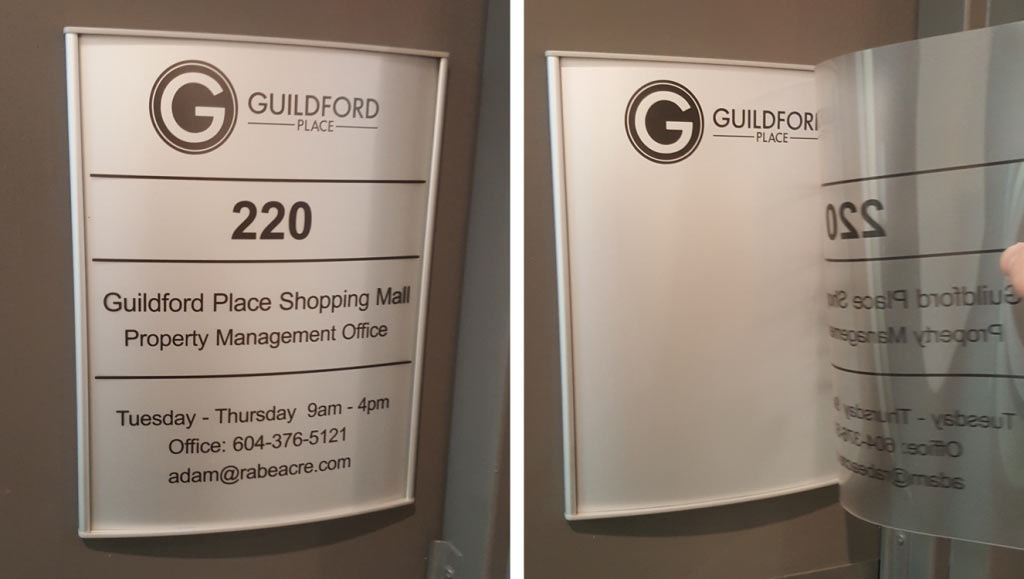 STEP 1: Choose a VS profile – VS Curved or VSF Flat? Both profiles can integrate into any project requirements. The curved has a traditional elegant look, while the flat has a more modern sleek look. VS – Curved Profile The VS curved profile can be installed in either the landscape or portrait format.
STEP 2: Choose a sign type and size. Whether it is for office nameplates or a complete building wayfinding package with washroom signs and fire evacuation plans, VS Signage has the solution.
STEP 3: Create your custom printed inserts. Print on paper or clear transparencies as required and insert into the VS frame by simply removing the clear plastic cover.